AlwaysOn's Mesh Network Solutions are scalable, reliable and affordable. The MeshAP nodes adapt easily to architectural or environmental constraints and are able to extend Wi-Fi coverage to any geographical location, big or small.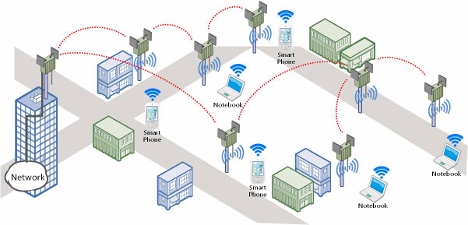 Having access to Wi-Fi internet is important for any business, but even more so for businesses which are always on the move.  Construction sites are constantly changing and cannot easily use the traditional wired network solutions, making AlwaysOn the perfect solution.  AlwaysOn's cost effective mesh network solutions, provide wide wireless coverage to construction sites without the need to lay out wires.  With AlwaysOn's products, managers can communicate effectively with inspectors and suppliers, and can inspect each construction site without physically visiting each one.
Alwayson's Wi-Fi Mesh are also a great solution for warehouses. Once the MeshAP access points are installed, keep track of products and look up inventory from anywhere in the warehouse.
AlwaysOn's wireless mesh network is also ideal for monitoring work sites and warehouses with surveillance cameras. The cameras can be installed where needed without having to pull costly extra wires.
AlwaysOn's wireless solutions extend hotspot coverage using wireless mesh technology to any distance and location with plug-n-play easy installation, and are fully compatible with existing access servers, routers and gateways.  AlwaysOn's MeshAPs have multiple channel capability so they can either eliminate or minimize AP traffic interference and mesh link interference.
Compatible with existing wired infrastructure, access server, PMS server
AlwaysOn's MeshAP Series Access Points are designed with the Layer 2 fast packet switching technology. This technology enables traffic to travel under a bridge mode. There is no alteration on the data traffic when they reach the destination across the mesh network. Each MeshAP node simply passes through all the data traffic, to the clients and the next nodes. The Layer 2 fast packet switching technology, also makes it highly compatible with other network devices like routers, and other application servers.
Services Available Using AlwaysOn's MeshAP Access Points
Email
High speed internet access. AlwaysOn's MeshAP Access Points are easy to      install and can provide Wi-Fi coverage to wide areas, without running      cables.
Temporary networks. Easy      to set up, tear down, and move to a different location. Perfect for      construction sites, conferences and business events.
Security and surveillance. Easy to setup Wi-Fi based surveillance cameras,      can be installed around any property and provide real time      feeds. Perfect for providing security in and around construction      sites, even hotel properties.
VPN access