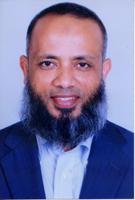 Dr. Reaz Shaheed
Mr. Shaheed is a Director and Chief Executive Officer of Always On Network Bangladesh Ltd (AlwaysOn). Before founding AlwaysOn, he worked as a research engineer with Intel Corporation in Portland, Oregon, USA for 12 years. He brings more than 17 years of technical experience to AlwaysOn.Since 1996 Mr. Shaheed has conducted research in the field of modeling and simulation of Si and SiGe-base bipolar transistors at Intel's Logic Technology Development group in Portland, Oregon. He has worked in developing the isolation structures for Intel's 180nm technology, delivered an award winning study on random dopant fluct uation effects for 3 generations of Intel transistors technologies. Dr. Shaheed played a key role in developing the industry's first manufacturable strained silicon transistors featured in Intel's 90nm technology in 2003. He provided key simulation support for developing Intel's 65nm technology. He has also received a number of Intel awards for his work.Mr. Shaheed is the author of 15 journal and conference papers and owns five US patents on strained Si transistors, SiGe bipolar transistors and process technology. Until June 2008, Dr. Shaheed was involved in developing the 4th generation strained Si transistors featured in Intel's 32nm technology that went into production in 2010.
Mr. Shaheed completed BS, MS and Ph.D. in Electrical Engineering from The University of Texas at Austin, 1990 and 1995 respectively. Dr. Shaheed is the country
director of OneUmmah Foundation, a USA based nonprofit organization that works to eliminate child labor through building schools in the developing countries.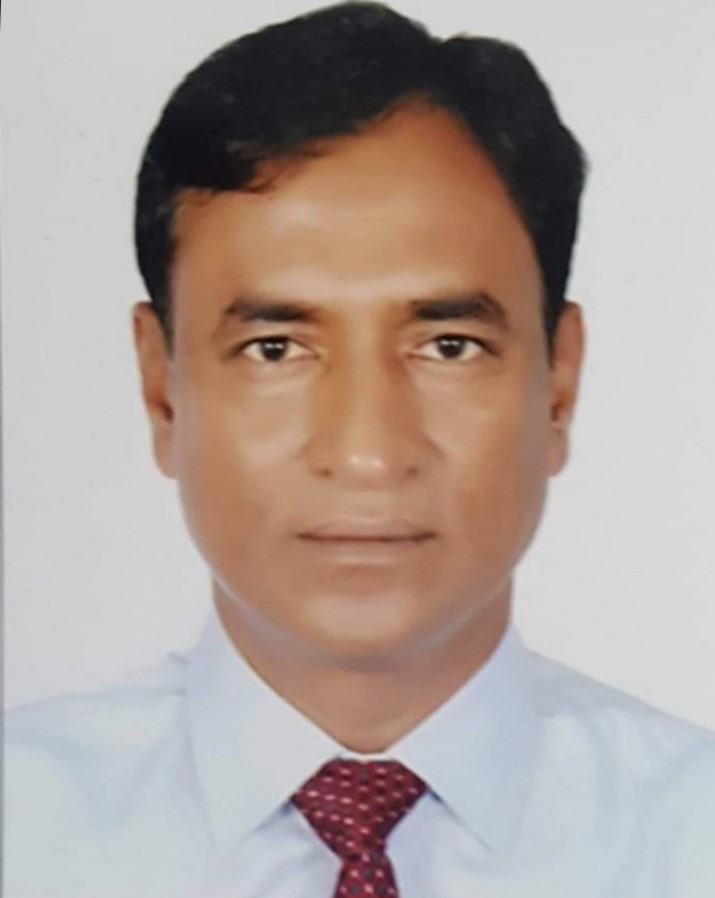 Abu Saleh Md Tazimul Islam
Abu Saleh Md Tazimul Islam is a Director of Always On Network. He is also the current Mayor of Pirgonj. He is the General Secretary of Bangladesh Awami League, Pirgonj Branch. Pirgonj is the parliamentary constituency of Honourable Prime Minister. Mr. Islam holds both a Bachelor's and Master's degrees in Law from Rajshahi University. He has vast experience in connecting with masses, organising large masses and managing large public organisations.
Rahul Prakash
Rahul Prakash is a director of AlwaysOn. He is also the President and Chief Executive Officer of Everest Telecom LLC, a private investment firm that invests and manages investments in business services, software services, telecommunications and related businesses, since he founded that company in April 2002. Since March 2005, he also has served as the Chairman of the Board of Softscribe, a business process services company based in India, and since 2007, has served as the Chairman of the Board of VectorShades, a CAD design firm, both of which are portfolio companies of Everest Telecom. From 1994 to 1997, Mr. Prakash was Vice President of Telcom Ventures, a private equity firm, and there after served as that company's President from 1997 to September 2002. During his tenure, Telcom was an early investor in: XM Satellite Radio Holdings, Inc., a Nasdaq listed company; Aether Holdings, Inc., a Nasdaq listed company; Teligent, Inc., which was formerly a Nasdaq listed company; Mobile Satellite Ventures; Ubiquitel PCS, an affiliate of Sprint Corp., a New York Stock Exchange listed company; and BPL Mobile, a cellular operator in India, among others. Under Mr. Prakash's leadership, Telcom also invested in Wireless Ventures of Brazil and Wireless Ventures of Argentina which were collectively acquired in 1997 by Nextel Partners Inc., a Nasdaq listed company. During his tenure at Telcom, Mr. Prakash served on the boards of two publicly-traded portfolio companies, Aether (from 1996 to June 2001), and Teligent (from May 2001 to September 2002). From 1991 to 1997, Mr. Prakash was employed with LCC International, Inc., a Nasdaq listed telecommunications company, as Vice President and Special Advisor to the Chairman. While at LCC, Mr. Prakash also served as Head of Business Development for Telemate, a joint venture of France Telecom and LCC International based in Paris (from 1993 to 1994). Mr. Prakash was a founding board member of the Indian CEO Council of the U.S., an organization of senior executive entrepreneurs, serving from 1996 until March 2005. Mr. Prakash received a B.A. with honors and an M.B.A. from Delhi University and an M.B.A. from American University.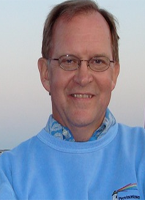 Dan Stanton, Director and Co-Founder
Dan has more than seventeen years of experience in the communications and information technology sector creating solutions for business, schools, and classrooms. He is a founder of Always On Network, Inc. and a Director and C-Founder for Always On Network Bangladesh Ltd. His tenure includes managing distance-learning programs, creating eCommercet applications, and providing technology to various vertical markets. Dan received a Bachelor's Degree from Oregon State University, completed postgraduate course work at Lewis & Clark College, and holds a Master's degree, Summa Cum Laude from Portland State University. He has also taught K-12 students in Portland area schools, as well as courses for Portland State University undergraduate and graduate students. An avid learner with a variety of interests, Dan has traveled extensively in Asia, Central and South America as well as Europe. He also enjoys windsurfing, skiing, and bicycling and has biked across North America. He also plays Chicago Blues guitar .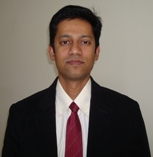 Mr. Andalib Khan
Mr. Andalib Khan is the Chief Technical Officer of AlwaysOn. He brings in 9 years of corporate experience with Intel Corp USA, the worlds biggest semiconductor company. Andalib completed his undergraduate degree in Electrical Engineering from Bangladesh University of Engineering and Technology (BUET), Dhaka in 1995. He completed his Masters in Electrical Engineering from the Oklahoma State University, USA in 1998.At present Mr. Andalib is the circuit design lead for a key group of Intel's most important CPU project at hand. He contributed immensely to several major CPU projects that gave Intel edge over its competition to become the word's fastest microprocessor producing company.
Mr. Andalib also developed software models for Intel's next generation bus protocol in the server chipset division. Mr. Andalib received Intel divisional award and also several project awards. He also owns a patent on "Link level retry scheme", related to Intel's point to point bus protocol similar to PCI express. Besides working as a wireless communication Engineer, Mr. Andalib founded a software group at GEC and developed patient management software for medical clinics.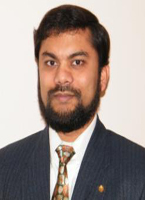 Md. Asifur Rahman
Mr Asif is an Executive Director of Corporate Strategy. For the past 5 years he is serving at Intel as Program Manager for Silicon Debug technology research. Prior to that he was actively designing circuits and performing simulation tasks for the state of the art processors for 6 additional years. He brings a total of 15 years of Technical experience to AONB. Since 1997 Mr. Asif has been actively working in the forefront of microprocessor design at Intel and served as the lead designer for Floating Point Divider. He holds specific expertise for dense domino circuit design with extreme high speed operations including pseudo asynchronous timing and power optimization.Mr Asif has been the author of 8 technical journals and conference papers, including International Test Conference (ITC) and ISTFA (international symposium of test & failure analysis). Mr Asif holds three US patents in the related fields of silicon debug & software integration. In 2002 Mr Asif invented the first optical logic recognition technology using 1064 nm emission light directly from silicon. This key invention changed the way silicon debug is done at Intel and later in the industry as well. In 2005 Asif invented industries first software integration engine that can connect multiple OS based CAD applications and data models with physical probing hardware. This is the current state of th.e art form for Silicon debug and hence his corporate role as debug solutions program manager. He manages an overseas team dispersed at Malaysia & Israel and university research at Italy Bologna.
Md. Lutfor Rahman Bhuiyan
Mr. Bhuiyan is the Chief Marketing Strategist of AlwaysOn. Mr. Bhuiyan brings in 9 years of corporate experience with Intel Corp, USA and Motorola Inc, USA – the worlds 2 biggest semiconductor and telecommunications companies.Mr Bhuiyan joined Intel in 2001. He is currently working as a project manager to enable and implement key server and workstation technologies on Intel platforms. His specific focus is the IO technologies like PCI express Gen1/Gen2, Infiniband and QPI (quick path interconnect). He was part of the industry's first "Teraflop" HPC cluster project at Intel in 2003.
Mr Bhuiyan has received a number of Group-level, Divisional-level and other recognition awards at Intel. From 1999 to 2001, Mr. Bhuiyan worked as a Senior Software Engineer in Motorola, based in Schaumberg, Illinois, USA. His team was responsible to develop 3 rd generation wireless solutions based on UMTS or W-CDMA technology. Mr Bhuiyan's specific project responsibilities included the design, implementation and validation of RNC (Radio Network Controller) and Cell initialization and configuration of the UMTS BSC (base station controller).